Safety
Up to 6 years of treatment experience in clinical trials(1)
Up to 6 years of treatment experience in clinical trials1
Tegsedi safety profile
Tegsedi has a manageable safety profile2,3, based on up to 6 years of clinical trial experience1
Safety monitoring
The open label extension of the NEURO-TTR study show that platelet and renal function monitoring continued to be effective in managing the identified risks of thrombocytopenia and acute glomerulonephritis3
References
*In the pivotal Phase-3 NEURO-TTR study, platelet count reductions to below normal (140 x 109/l) were reported for 54% of patients on Tegsedi versus 13% of placebo patients. Three (3%) patients developed platelet counts < 25 x 109/l; one of these patients experienced a fatal intracranial haemorrhage.
Coelho T et al. Efficacy and safety with >3 years of inotersen treatment for the polyneuropathy of hereditary transthyretin amyloidosis. OPR15, 7th Congress of the European Academy of Neurology 2021, 19-22 June 20.
Tegsedi Summary of Product Characteristics. April 2021.
Brannagan TH, Wang AK, Coelho T, et al. Eur J Neurol. 2020;27(8):1374-1381. doi:10.1111/ene.14285
Benson MD et al. Inotersen Treatment for Patients with Hereditary Transthyretin Amyloidosis. N Engl J Med. 2018;379(1):22–31 (Suppl Appendix).
Selected adverse events

Warnings and precautions
Thrombocytopenia: Tegsedi is associated with reductions in platelet count, which may result in thrombocytopenia. Monitor platelet count every 2 weeks during treatment and for 8 weeks following treatment discontinuation. Patients should be instructed to report immediately any signs of unusual or prolonged bleeding. Special caution should be used in elderly patients, those taking antithrombotic or antiplatelet medications, medicines that may lower blood count and in patients with a history of major bleeding events.
Glomerulonephritis/renal function decline: Glomerulonephritis and renal function decline without signs of glomerulonephritis have been seen in some patients. Monitor UPCR and eGFR every 3 months or more frequently, as clinically indicated, based on history of chronic kidney disease and/or renal amyloidosis. Caution should be used with nephrotoxic medicinal products and other medicines that my impair renal function.
Vitamin A deficiency: Tegsedi is expected to reduce plasma vitamin A (retinol) below normal levels. Before Tegsedi initiation, correct levels below the lower limit of normal .and ensure any ocular symptoms or signs of vitamin A deficiency have resolved. Patients treated with Tegsedi should take oral supplementation of 3000 IU vitamin A per day.
Liver monitoring: Measure hepatic enzymes 4 months after initiation of treatment and at least annually thereafter.
Liver Transplant Rejection: Cases of liver transplant rejection have been reported in patients treated with Tegsedi. Patients should be monitored for signs and symptoms of transplant rejection during treatment with Tegsedi. Discontinuation of Tegsedi should be considered in patients who develop liver transplant rejection.
Pregnancy and lactation: Not to be used in pregnancy, unless required by clinical condition of the woman. Exclude pregnancy before initiation.
Monitoring2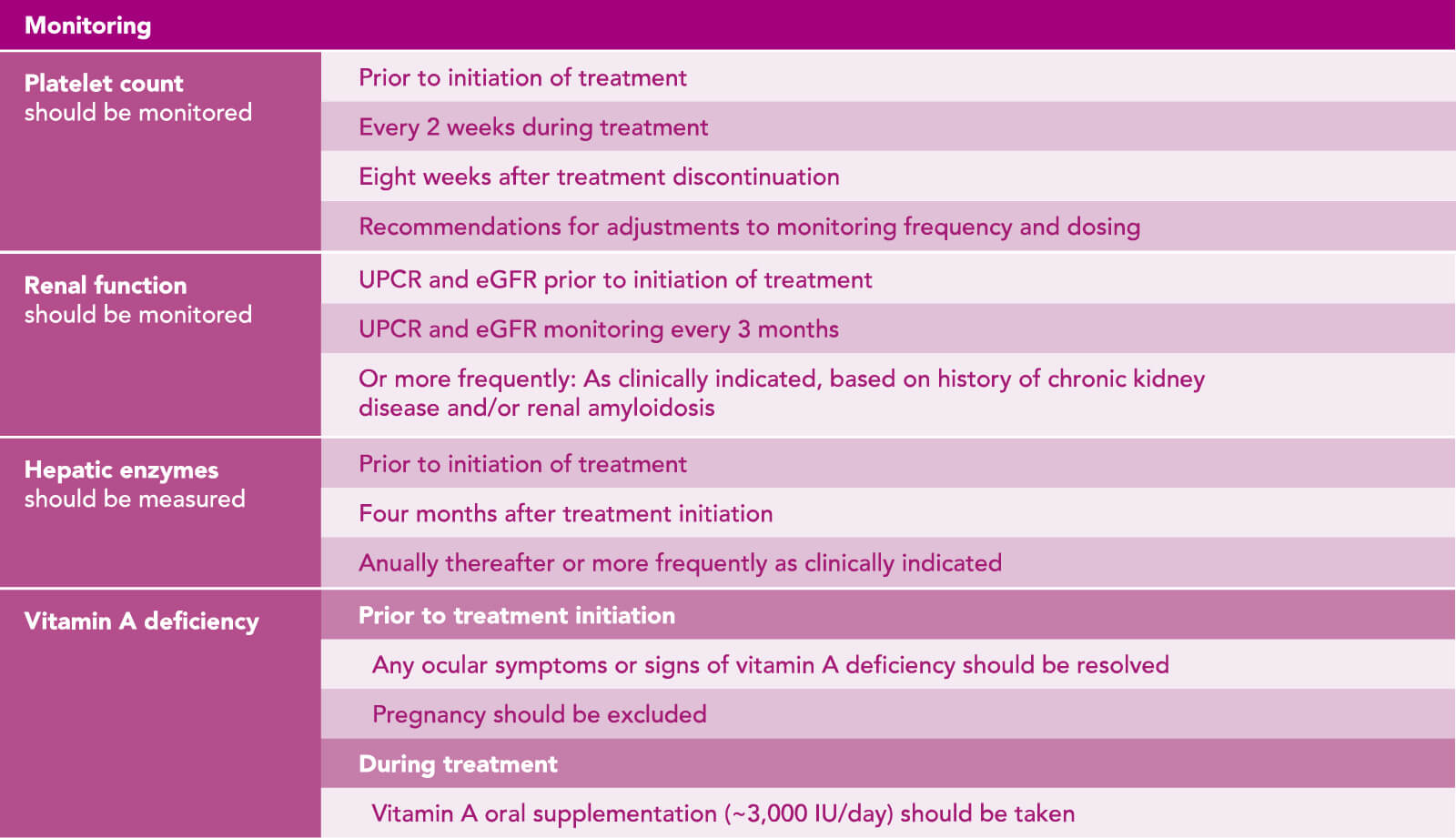 Monitoring for thrombocytopenia and platelet count2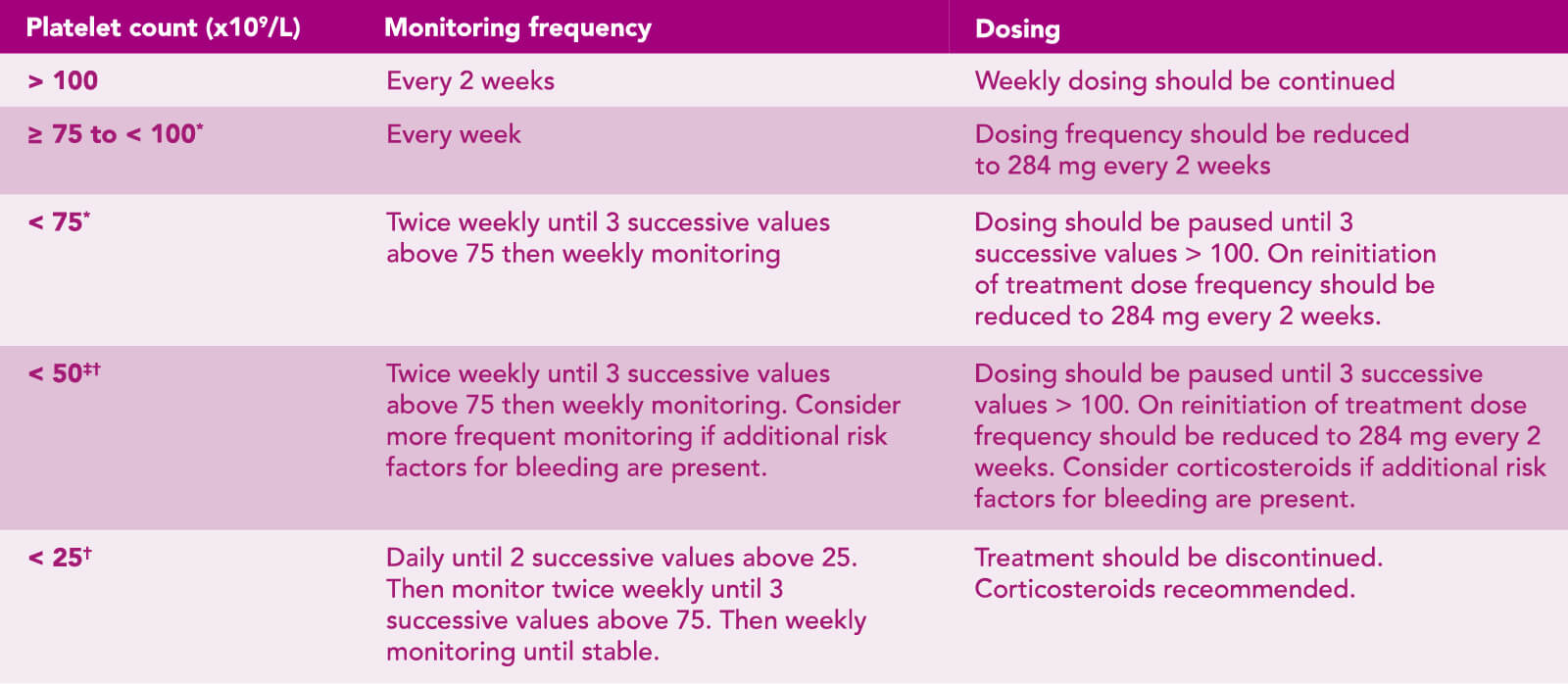 * If the subsequent test confirms the initial test result, then monitoring frequency and dosing should be adjusted as recommended in the table.
‡ Additional risk factors for bleeding include age >60 years, receiving anticoagulant or antiplatelet medicinal products, and /or prior history of major bleeding events
† It is strongly recommended that, unless corticosteroids are contraindicated, the patient receives glucocorticoid therapy to reserve the platelet decline. Patients who discontinue therapy with inotersen due to platelet counts below 25 x 109/L should not reinitiate therapy.
Monitoring for UPCR and eGFR 2
Because of the risk of glomerulonephritis and possible renal function decline, patients should be monitored for signs of increased proteinuria and reduction in eGFR during treatment with Tegsedi.
In the case of a decrease in eGFR >30%, in the absence of an alternative explanation, pausing of Tegsedi treatment should be considered pending further evaluation of the cause.
In the case of UPCR ≥ 2 g/g (226 mg/mmol), which is confirmed on repeat testing, Tegsedi treatment should be paused while further evaluation for acute glomerulonephritis is performed.
Treatment with Tegsedi should permanently be discontinued if acute glomerulonephritis is confirmed. If glomerulonephritis is excluded, dosing may be resumed if clinically indicated and following improvement of renal function